There are many types of Polo T-shirts brands in the market, but finding the best one can be tough. Many factors must be considered while purchasing a Polo T-shirt, such as the material, design, color, and fit.
But if you're looking for a branded T-shirt with a Polo collar, this page is for you.
We've compiled a list of the 10 best Polo T-shirt brands available in India so that you can make an informed decision while purchasing one.
Different Types of T-shirts Available For Men in India
There are a variety of t-shirts available for men in India.
1. Polo T-shirt:
Polo t-shirts are a classic and stylish option for men. They can be worn on casual and formal occasions and come in various colors and patterns. Polo shirts usually have a collar and button placket and are made from breathable fabrics like cotton or linen.
2. Round Neck:
Round neck t-shirts are a simple and comfortable option for men. They can be easily dressed up and come in various colors and materials. Round neck shirts are typically made from cotton or soft fabrics and have a relaxed fit.
3. V-Neck:
V-neck t-shirts are a more formal option for men and are often worn on special occasions or as a uniform. They are available in various colors and materials but are most commonly made from cotton or polyester. V-neck shirts typically have a slim fit, so they may not be as comfortable as other options.
4. Printed:
Printed t-shirts are a fun and stylish option for men. They can be found in various colors, patterns, and materials and are often adorned with graphic designs or logos. Printed shirts are made from cotton or polyester and have a relaxed or regular fit.
5. Full Sleeve:
Full-sleeve t-shirts offer more coverage than other options, making them ideal for cold weather or formal occasions. They come in various colors and materials but are most commonly made from cotton or wool. Full-sleeve shirts typically have a fitted silhouette, so they may not be as comfortable as other options.
How to Style Your Polo T-shirts?
7 simple tips to style your polo t-shirts,
1. Choose solid pattern polo t-shirts:
Polo T-shirts are available in a wide range of colors and patterns. But, it is advisable to choose a solid pattern over a printed one. This is because prints tend to go out of style quickly. At the same time, solids are timeless and can be worn for years to come.
2. Tuck your polo shirt in front:
Always tuck your polo shirt in front. This will give you a neater and sharper look.
3. Upturn the color:
Polo shirts are usually worn with the collar up. This gives the outfit a more preppy look.
4. Tuck it fully:
When tucking in your polo shirt, make sure to tuck it in fully. This means there should be no part of the shirt hanging out at the back or sides.
5. Put one button:
Don't button up all the way. Leave one button undone at the top for a relaxed and stylish look.
6. Pair with Contrast color jeans pants:
Jeans pants are a great option to pair with your polo shirt. And, if you want to add a little bit of contrast to your outfit, opt for a pair of jeans in a color that contrasts with your shirt.
7. Choose a T-shirt with Pockets:
Polo shirts with pockets are not only stylish but also very practical. They give you a place to store your things when you're on the go.
What to Wear With Polo T-shirts?
Polo t-shirts are a wardrobe staple and can be styled in many ways. Here are 7 attire you can wear with your polo t-shirt,
1. With track pants:
Track pants are comfortable and stylish. Pair them with a polo t-shirt for a relaxed look.
2. With shorts:
Shorts are perfect for the summer. Pair them with a polo t-shirt to stay cool and comfortable.
3. With formal pants:
Polo t-shirts can also be dressed up with formal pants for a more sophisticated look.
4. With a blazer and formal pants:
For a sharp and stylish look, pair your polo t-shirt with a blazer and formal pants.
5. With rough cargo pants:
Rough cargo pants are rugged and stylish. Pair them with a polo t-shirt for a cool and casual look.
6. With denim jeans:
Denim jeans are classic and versatile. Pair them with a polo t-shirt for a timeless look.
7. With our ethnic wear lungi or dhoti:
For a traditional yet stylish look, pair your polo t-shirt with our ethnic wear lungi or dhoti.
Top 10 Polo Collar T-Shirt Brands
1. Damensch
This Damensch Polo T-shirt is made of Superior Cool Max thermo-regulating fiber technology. It ensures adequate breathability and tries to dry out the sweat much faster. It also leads to a reduction in the formation of microbial. The Cool Max Eco tech works on recycling mechanisms where the plastic material is recycled into a dress.
The design of this Polo T-shirt comes with three buttons and thick self-fabric collar. You can pair this t-shirt with simple shorts. This Polo Neck T-shirt have a gold finish to the pique material, which gives a shiny, classic, and stylish look. IT is manufactured using high-grade dyes, careful knitting, and promise to be fade-proof for 500 days.
2. Rare Rabbit
This blue color Rare Rabbit Polo t-shirt is manufactured with 100% cotton fabric which helps to control the body temperature and absorbs your sweat and makes you feel more comfortable even on sunny days.
This slim fit Polo T-shirt is one of the most comfortable daily wear which looks stylish and excellent when paired with leather jackets for an outing.
3. Westside
This red coloured Westside Polo t-shirt is manufactured using 96% cotton and 4% Elastane. It has a sleek collar, and a two-button placket follows the collar. It also comes with a chest pocket and gives the t-shirt a casual yet elegant look. This blended cotton gives breathability and comfort, especially during the peak summers. Washing becomes easy and can serve best even on a simple machine wash.
4. Souled Store
This Souled Store Polo T-shirt is trendy and stylish and comes with a self-collar followed by two buttons which give an excellent outlook. This premium quality cotton gives breathability and helps absorb sweat easily. It is more comfortable to wear during the summer. The price of this T-shirt makes it more affordable and attractive.
This Indian-based brand offers a wide range of trendy and stylish polo t-shirts for both men and women.
If you're looking for the best-branded polo collar T-shirts in India, look no further than look no further than Souled Store!
5. Beyoung
This Beyoung Polo T-shirt is made of durable quality imported pique cotton fabric. The Pique cotton fabric helps the easy airflow and breathability of your attire. It also comes with classic collar and three button placket. The dyes used to manufacture are long-lasting and eco-friendly. A cold and gentle wash is enough to maintain the beyoung Polo T-shirt.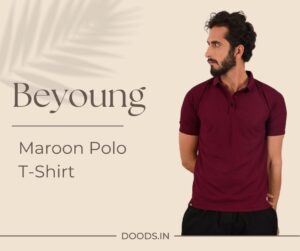 6. US Polo
This US Polo T-shirts are made with knitted pure cotton fabric with the brand logo embroidered on them. It is stitched as slim fit type and comes with polo collar, two-button placket short sleeves. It is suitable for casual meets with printed patterns. This 100% pure cotton t-shirt is easily washable and maintainable with a simple machine wash.
7. Polo Ralph Lauren
This Ralph Lauren Polo T-shirts are made of high-breathable cotton mesh that gives a soft and textured touch and feels. It has a Rib-Knit Polo collar and a two-button placket. It comes in a slim fit type which hugs your chest and biceps tight and make you look like a super model. The Ralph Lauren logo is embroidered on the left chest corner. It is made of imported cotton and can be easily maintained on machine-wash.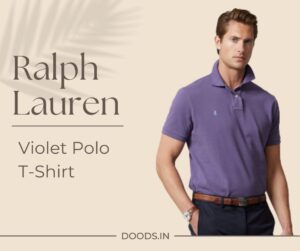 8. Classic Polo
Comfort and Classic style well defines the Classic Polo T-shirt. It comes with a regular fit and is manufactured with premium quality cotton fabric. The durable fabric makes this polo T-shirt more breathable and soft. It has a clean Silhouette and a 2-button placket. It has a small emblem patched and embroidered in the left chest pocket.
It is short-sleeved that comes with a collar neck style. The fabric combines 60% cotton and 40% Polyester and is easy to maintain over a machine wash with cold and gentle water.
There's something about a classic polo that exudes effortless style. Whether you're dressing it up with chinos for a casual workday look or keeping it casual with jeans on the weekend, a polo is always a good choice. And when it comes to finding the perfect polo, no brand does it better than Classic Polo.
9. Max
The Max polo T-shirt with Half sleeve and collar gives a trendy change to your casual wardrobe. It came in black solid color and was made of a cotton blend. It is simple and is best suitable for all your casual outings. This black solid t-shirt make your outlook casual and dashing and it is easy to wash & maintain. The main reason that makes this T-shirt more desirable is the benefit you reap at an affordable price. The benefits outweigh the price and make the T-shirt one of the best in India.
10. Basics
This Basics red color Polo T-shirt is an ultra-cool, space-dyed t-shirt that surprises you with extra comfort and outlook. It is pre-washed and pre-shrunk. It can be comfortably tucked and is made of pique cotton, which makes it more breathable and soft. It is best when paired with Denims and Chinos. This red t-shirt comes with a half sleeve and tipped collar. It can be easily maintained with a machine wash. Ensure to wash them separately.
Which brand is best for low price polo T-shirts?
WESTSIDE is the brand that offers Low Price Polo T-shirts at affordable rates. The prices begin at Rs. 699 only. The Westside Polo T-Shirts are made using a combination of cotton and Elastane. This solid color, comfortable wear, easy maintenance, and affordability makes it more desirable among men.
Which polo brand is the best and most expensive?
RALPH LAUREN is the best and most expensive brand of Polo T-shirts. The price of ralph Lauren T-shirts begins with Rs.10000 and above. The imported quality cotton, rib-knit collars, comfortable wear, and chest-hugging sleeves enhance your outlook and justify the price. You need to pay more to get the best of the lot.
Steps to remember before washing Polo t-shirts
The task of maintaining the Polo T-Shirts is often overlooked. You need to remember the following aspects while washing the Polo T-Shirts.
1. Wash Inside Up
Washing the Polo T-shirts inside out helps keep the vibrant colors solid and long-lasting. It is not just washing; you need to dry them inside.
2. Don't use Detergents
Detergents might be very harsh on your clothes and make them look faded quickly. Do not use detergents on your Polo T-shirts. You can choose milder soaps or cloth softeners to wash them.
3. Don't Wrinkle Hard
If you choose to hand wash, ensure not to rub the Polo T-shirts very hard. Harsh rubbing of clothes can damage the fabric. If you prefer rubbing your clothes before machine-washing, prefer mild soap. It will make your job easier.
4. Don't Dry in open sunlight
Drying your clothes in open sunlight might fade the color and make the Polo T-shirts harder. It is better to use the dryer and dry them in a shaded area. Ensure to remove the wrinkles before drying the Polo T-shirts. This ensures that there are no permanent fold marks on the T-shirt.
5. Don't Fold Polos; hang them on a hanger
Do not Fold the Polo. Instead, try hanging them on the hanger. Hanging the Polo T-shirts protects the fabric and gives a new look for a longer time.
FAQ's about Polo T-Shirt Brands in India
1. Which Brand Is Best For Polo T-shirts In India?
There are a lot of great brands for polo t-shirts in India, but our top pick is Damensch. They offer a wide range of colors and styles to choose from, and their shirts are made from high-quality materials. Plus, they're affordable without sacrificing quality or style.
2. Why Are Polo T-shirts Best?
There are many reasons why polo T-shirts are the best choice for a comfortable and stylish shirt. They are made of soft, breathable fabric that is ideal for warm weather. Polo T-shirts also have a classic style that never goes out of fashion. Additionally, they can be dressed up or down to suit any occasion.
Polo T-shirts are perfect for a casual day out or a more formal event. They can be worn with jeans or shorts for a relaxed look or paired with khakis or dress pants for a more polished appearance. No matter how you wear them, polo T-shirts always look great.
Most importantly, polo T-shirts are extremely comfortable. The soft fabric and lose fit make them ideal for hot weather or active activities. Whether you're hitting the golf course or just running errands, polo T-shirts will keep you cool and comfortable all day long.
3. What Is The Best Quality Material For Polo T-shirt?
The best quality material for a polo T-shirt is cotton. Cotton is a soft, natural fiber that is comfortable to wear and breathable. Polo T-shirts made from cotton are also more durable than those made from other materials.
4. Can I Wear Polo T-shirt To Business Meetings?
Yes, you can wear a polo t-shirt to business meetings. However, it is important to consider the context of the meeting and dress accordingly. For example, if you are meeting with potential clients, you may want to dress more formally to make a good impression. A polo shirt may be more appropriate if the meeting is with colleagues or employees. Choose a comfortable and professional outfit that will help you feel confident during the meeting.
5. Where To Buy Polo T-Shirts In India?
There are many places to buy polo t-shirts in India. Some popular places include department stores, online retailers, and specialty stores. Department stores such as Walmart and Target typically carry a wide variety of polo t-shirts from different brands. Online retailers such as Amazon often have a wider selection of polo t-shirts than brick-and-mortar stores. And finally, specialty stores such as GAP or Old Navy usually have a good selection of polo t-shirts as well.
6. Which Design Pattern Looks Good In Polo T-shirt?
There are a variety of different design patterns that look good on polo t-shirts. One popular option is a solid pattern. This can be a single color or a variety of colors put together to create a cohesive look. Another popular option is a striped pattern. This can be done with two or more colors and can add some visual interest to the shirt. Finally, another option is a plaid pattern. This is created by intersecting lines of different colors and can also add some visual interest to the shirt.
7. Short Sleeves Or Long Sleeves, Which One Should I Choose?
If you're trying to decide between short sleeves and long sleeves, the best answer is probably half sleeves. Half sleeves offer the best of both worlds – they're cooler than long sleeves but provide more coverage than short sleeves. Plus, you can always roll up the sleeves if you need a little extra protection from the sun or cold.
8. Can We Wear Another Shirt Beneath Our Polo?
If you're looking for a layered look, wearing a shirt beneath your polo is not the way to go. Layering a collared shirt beneath polo results in a bulky, unkempt look. It's better to stick with a single layer- either a polo on its own or a collared shirt worn underneath a sweater or jacket.
9. Can We Fold Our Polo After Wash?
If you're wondering if you can fold your polo after washing, the answer is, unfortunately, no. Polo shirts are meant to be hung up after washing in order to keep their shape. Folding them will only cause wrinkles and ruin the fabric.
10. Can We Put All Button In Our Polo?
No, you cannot put all buttons on our polo. Button one is for the neckline, and two is for the waistline.
Conclusion
In conclusion, we discussed India's top 10 best-branded polo collar t-shirts. We went over the features of each brand and what makes them stand out.
We also gave our opinion on which brand is the best for polo t-shirts in India. We hope this blog post has been helpful in your decision-making process.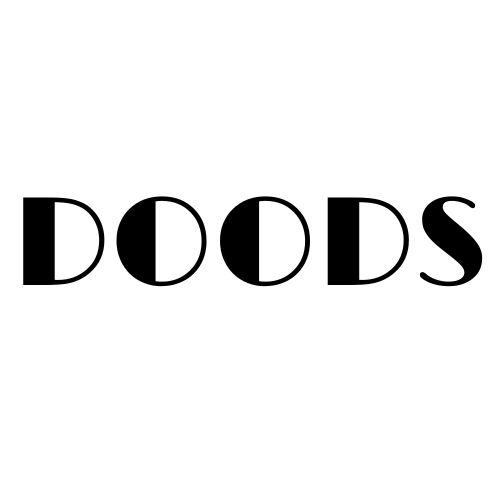 Solid Color T-shirts for Classy Men.